US$ 3bn Accra SkyTrain Project Updates, Ghana
Project overview
Accra SkyTrain is a planned fully automated, elevated light railway metro network that is intended to serve the Accra city in Greater Accra, Ghana.
The network will have five routes, four of which are radial routes that originate at a new terminal at the Kwame Nkrumah Interchange, and another route that loops around the city center. The total track length across all routes is 194 kilometers.
Reported earlier
Nov 2018
Ghana signs US $3bn deal for the Accra SkyTrain project
The government of Ghana has signed a Memorandum of Understanding (MoU) with South African firm Africa Investment (AI) to construct the Accra Sky Train project at a whopping cost of US $3bn.
Ghana's Railways Development Minister Mr. Joe Gharte, confirmed the reports and said the Sky Train Project was the solution to the increasing traffic congestion in Accra. He further explained that US $3bn deal signed would last 9 months.
Feasibility study
Ai SkyTrain Consortium would do a feasibility test of the project after which a concessionary agreement would be given for approval to the Cabinet and Parliament in 45 days.
"This will then pave way for the commencement of construction by January 2020," said Ghartey added.
"There is confidence in the project. The promoters, Ai SkyTrain consortium are very serious, and that is why we invited the President, himself, to witness the signing. This should assure the investors that the government is solidly behind it. The economics of this project are also good. We are very excited about the prospects," added Mr. Joe Gharte.
Accra's public transport system
The SkyTrain is expected to improve Accra's public transport system through an elevated light railway system which would provide low-cost transport to its citizens. According to World Bank, Ghana requires at least US $2bn per annum over the next decade to fill the infrastructure gap that exists.
"We are exceptionally excited also by the fact that a lot of the construction works will be done in Ghana. It will create a lot of jobs in Ghana because the fabrication and construction will all be done in Ghana," said the Minister.
President Akufo-Addo stated that the projects set a good example of intra-Africa cooperation. "In this case it is Ghana and South Africa co-operation, meeting together to deal with the problem of urbanization."
Nov 2019
Ghana signs concession agreement for the development of US $3bn Accra SkyTrain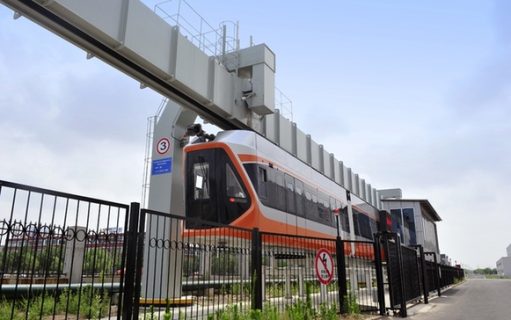 The government of Ghana has signed a concession agreement with Ghana Infrastructure Investment Fund and Africa Investment SkyTrain Consortium Holdings to develop a world-class mass transport system in Ghana's capital Accra.
Accra SkyTrain system
The US $3bn Accra SkyTrain system will be the first of its kind in Africa. A SkyTrain is an elevated air-propelled light rail system that uses rails and steel wheels on an elevated runway for low drag and energy optimization. Sponsors of the project include Ghana Infrastructure Investment Fund and South Africa-based Africa Investment SkyTrain Consortium Holdings, for which a feasibility study was recently completed.
In addition, the agreement marked the next step towards the completion of a bankable feasibility study. The African Investment SkyTrain Consortium comprises project development company Bunengi Group, construction engineering company Wilson Bayly Holmes Ovcon, and Ai Capital, the investment and financing arm of the Ai Group.
Ghana Investment Promotion Centre CEO Yofi Grant while speaking during the 2019 Africa Investment Forum, in Sandton said that they are confident the project will come to a financial close by this time next year so as to allow construction works to kick off soon after.
Funding the project
Mr. Grant added that several parties had expressed interest in funding the project through a combination of equity and debt as sponsors are keen to secure additional funding for the development.
Solomon Asamoah of Ghana Infrastructure Investment Fund said the project will create 5,000 jobs during construction and more are expected to be employed considering the system's multiplier effects and property growth around the transport system. Mr. Asamoah added that the SkyTrain would bypass existing infrastructure, therefore, making it easier and cheaper to deploy while operating in an environmentally-friendly manner
"We desire our cities to be green and modern, this project will take us there," said African Development Bank President Akinwumi Adesina.